World 8-4
Bowser's castle is different than the other castles. Oh, it looks the same, and it uses a lot of the same tricks you've seen in previous x-4 stages. But this is a challenge on a whole different level from what's come before.
World 8-4 is a huge, complex maze. It makes World 7-4's labyrinth look like an exercise in apathy by comparison. Nothing about this stage offers any quarter, and it gets nasty right from the start by forcing you to leap a chasm of fire from the bottom step of a downward staircase with a low ceiling. Here, even a simple jump has been engineered for maximum danger: The gap is wide enough that you can't clear it with a normal jump, and the ceiling overhead is so low that you have to jump from the bottom step to prevent hitting your head. So you need to make a running leap with a single block's run-up.
Beyond that, you get your first hint of the pipe maze ahead. The second pipe in the stage lets you warp… and it takes you back one screen, to the first pipe.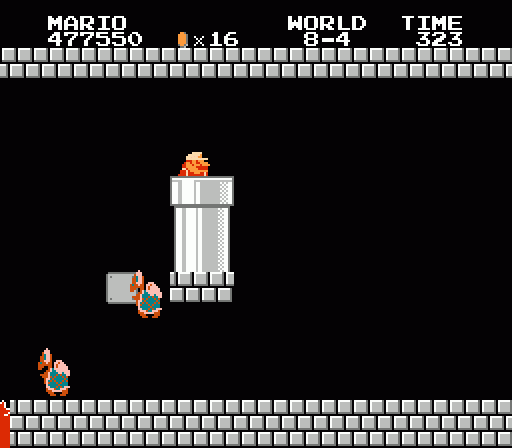 World 8-4 is full of this sort of thing. You can duck into many of the pipes in this stage, but only a few of them lead you forward. The rest set you in a loop — or worse, take you back to the beginning of the stage. There's enough time on the clock to make one or two mistakes, but anything more than that and you're dead.
The enemies that appear here are unconventional for a castle stage as well, and will keep you on your toes: Cheap-Cheaps inexplicably come flying out of the lava, Bloobers show up during a brief underwater jaunt with a strange color palette, Buzzy Beetles, Gloombas, and Koopa Paratroopas all make a rare castle appearance, and there's even a Hammer Bro. determined to put a stop to your advance.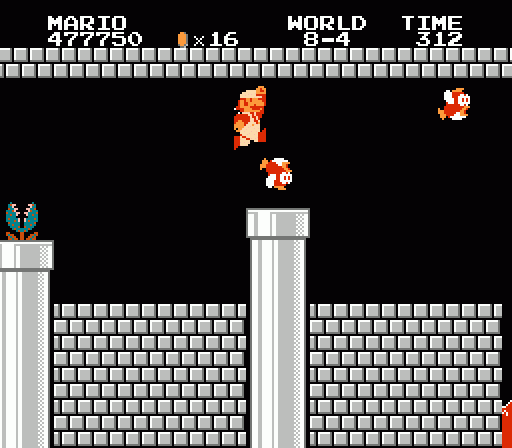 And no, you can't collect a power-up in this level. If you don't manage to retain a Fire Flower from 8-3 and make it through without a scratch, you have to make it past both the Hammer Bro. and Bowser's respective flurry of hammers in order to claim victory.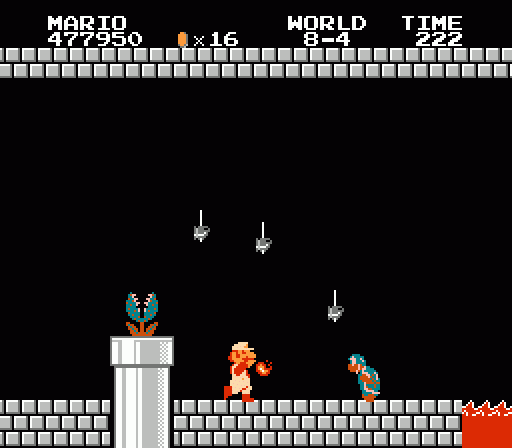 Bowser here is the most difficult he's ever been, belching rapid gouts of flame as he leaps and throws hammers. He tosses so many projectiles, in fact, that they tend to flicker out of sight because the poor NES can't keep up with them.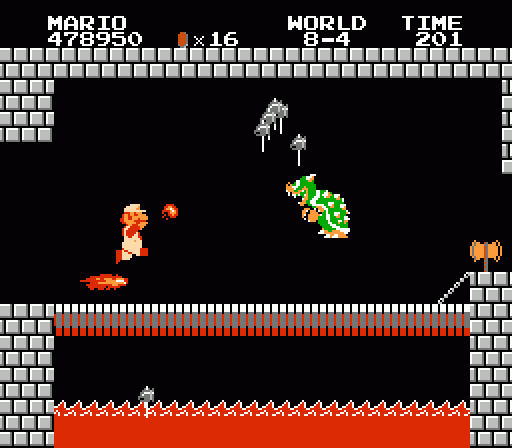 I'd like to write some stirring proclamation about how this is it, how everything you've learned comes down to this moment, but really aside from the slightly increased vigor of his assault Bowser isn't too terribly different from any encounter you've had before. There are no special techniques or tactics to clearing this battle; you just need to use the same combination of luck, timing, and determination that's gotten you past Bowser every other time.
Really, it's the level itself that represents the culmination of Super Mario Bros.'s mechanics and design. But it's not even just 8-4; the whole of World 8 sequentially makes use of the skills you've learned and enemy capabilities you've mastered. From the tricky jumps of World 8-1 to the devious maze of World 8-4, these four stages put the lessons of the first seven worlds to the test. I don't think the school metaphor is too far off the mark here; Super Mario Bros. goes out of its way to instruct you and make certain you make use of and understand its basics before offering advanced techniques, and it gives you ample opportunity to study and respond to the basics of its setup before tossing you into the deep end.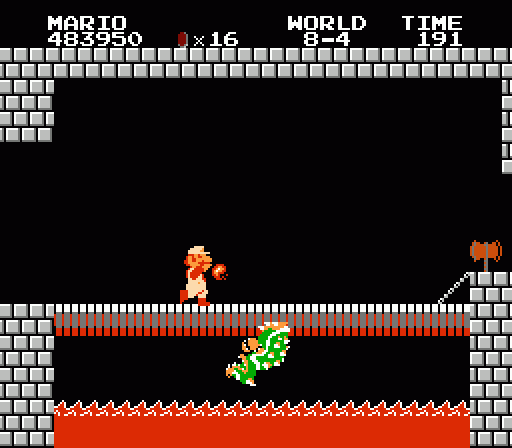 When you defeat Bowser with fireballs this time — and congratulations on that! — the critter that falls into the fire is… well, it's Bowser. This means that, at long last, our princess is not in another castle. After a hard-fought struggle, you've triumphed over 32 stages of increasingly hellish challenges. Nicely done; enjoy your compliments from the Mushroom Kingdom's strangely misshapen princess, whose skull was evidently replaced by a potato by Bowser's dark magicks.
Now please enjoy the second, more difficult iteration of these levels. Oh, you thought that just because Super Mario Bros. offered 32 levels instead of four it wasn't going to do the "second loop" thing? How naïve.