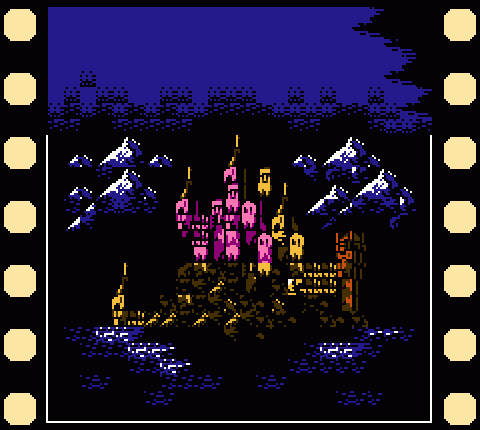 Many gamers see Castlevania III as a return to form, which is to say it turns the gears of game design backward to pretend Simon's Quest never happened. Rather, it plays much more like the original Castlevania: Linear discrete stages, high difficulty level, stages designed as refined obstacle courses rather than meandering open spaces. New hero (ancestral Trevor Belmont) even looks almost exactly like Simon from the first game despite being a different character. The message here comes across clearly: We're very sorry about Castlevania II, hope this makes up for it.
Personally, I found it very slightly disappointing at the time. What I'd really have liked to have seen would have been a Castlevania sequel that tied together the free-form style of Simon's Quest with the more structured design of the original game rather than a game that essentially threw out of all the experimental ideas of the first sequel in favor of "Castlevania, but more awesome." We wouldn't see a game like that until Symphony of the Night—and, in fairness, maybe the skill and technology weren't really in place for something on that level. Besides, what we did receive in the form of Dracula's Curse was so good you can't really take issue with it. And it's not like every concept from Simon's Quest was thrown to the wayside….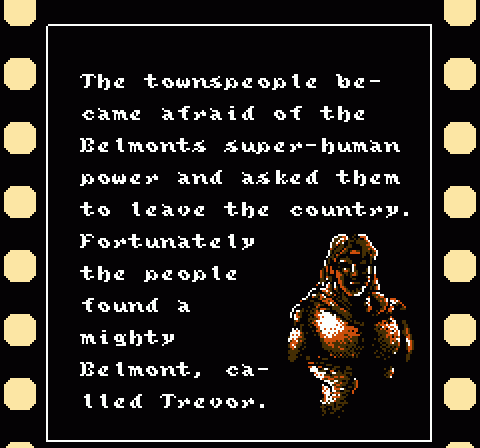 Konami's crew wasted no time in making a declaration of their intentions with Dracula's Curse. From the moment the title screen scrolls, its nature comes into clear focus: The monster movie metaphor of the original game (a trait of the series that would be lost after the NES era) plays a big part of the pre-game attract mode, as the backstory plays out matted against a frame of sprocket holes. "This is the sequel to Castlevania!" it declares. "Here we have the backstory to Simon Belmondo's battle against Christopher Bee and Love Chaney, Jr.'s costumed monsters."
The action begins with a name entry screen and password system—something lacking from the original Castlevania, and a sign that this game will indeed be larger and more complex than its antecedent. (There's also a built-in cheat here: Enter "HELP ME" as your name and you'll play with 10 lives per credit instead of three. You know, if you go in for those weaksauce shenanigans.) And, for the first time, you're treated to a touch of context: Trevor prays for strength against the forces of evil at a shrine before dramatically rising and flinging aside his cloak to begin the adventure.
And the adventure begins in fine form. It's the Castlevania style, alright, but the music is driving and powerful. The visuals are arresting. If Dracula's Curse was indeed built on the "Castlevania but more awesome" premise, as we're assuming, Block 1-01 through 1-03 lay it out for us quite neatly. The modest castle entrance of the original Castlevania and repetitive town backgrounds of Castlevania II are swept away in favor of the crumbling ruins of a city under siege. (According to Simon's Quest's layout of Transylvania, this town would be Yomi; Rondo of Blood, however, places Aljiba closest to the castle. I think the correct answer is, "Don't think too hard about it.")
The design thinking behind Dracula's Curse clearly took its placement as the third game of a series and contemporary competition into account, because even the first set of sub-blocks manages to incorporate just about every hazard present in the first three full stages of the original game. The creators built this game specifically for fans of the series who were hungering for a challenge, and it wastes no time getting down to brass tacks. You'd have to try really hard to die in Blocks 01-03 of Castlevania, but I have witnessed a novice player who stomped the first boss of the 1986 original get a Game Over before reaching the end of Block 1-03.
But I think the game could afford to be tougher, because it launched into a more mature market than existed at the time of the series' debut. Castlevania in many ways had to teach gamers how to play this style of game (whose only real antecedent was arguably Ghosts 'N Goblins). By the time Dracula's Curse arrived (at the end of 1989 in Japan, fall 1990 in the U.S.), console game design had advanced by tremendous strides. NES owners had seen the likes of Ninja Gaiden and Super C: True tests of skill and dexterity. The gloves could come off, the training wheels abandoned.