Ambitious as Block 1 of Castlevania III was, Block 3 might actually top it. At the very least, it demonstrates the fact that the designers didn't tip their hands at the very start. You know how you play a lot of games these days with a crazy, amazing, introductory set piece… and then the rest of the game is kind of repetitive and mundane? Yeah, Dracula's Curse isn't one of those. Block 3 has more variety and even more sprawl than the first level. It's huge! And crazy!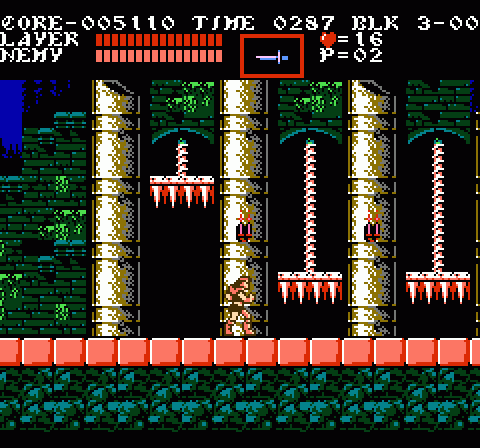 For starters, if you decided to skip Block 2 either because you hate Grant (understandable) or just don't want to savor as much of this game's content as possible (what is wrong with you?), you get to play through a unique sequence: Block 3-00, which calls back to Stage 6 of the original Castlevania. Three spiked ceiling traps between columns adorned with candelabras, followed by a ghost that drifts toward you as you climb stairs to the next area? Much too familiar and specific to be a coincidence.
Block 3-00 isn't terrible long, and it's not particularly difficult, but it does give you something interesting to do if you skip the Clock Tower. A needless touch, but a welcome one.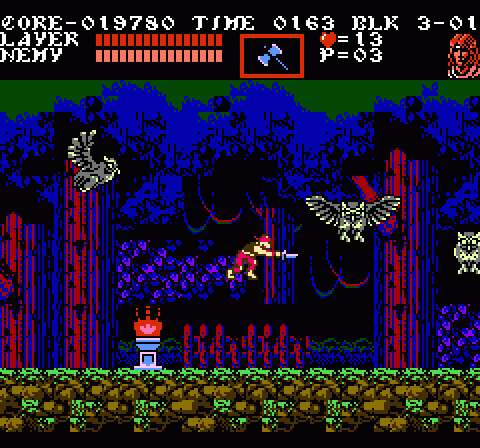 However you reach Block 3-01, you'll find one of the most visually impressive sequences yet seen in Castlevania. You're traipsing through darkened woods in the dead of night, and with a mere six or seven colors, Konami's designers manage to convey shadow-shrouded copses of trees side-lit by torch fires and the moon. Gorgeous minimalism.
Meanwhile, in terms of play, this area is potentially incredibly overwhelming if you don't play it right. The woods are populated by massive owls that peek out from the trees before swooping at you. They're not vulnerable until they emerge completely, and once they're in the air, they don't relent: Once they pass you, they turn back around and make another pass, even if you scroll them off the screen. This makes them a lot scarier than Ninja Gaiden's eagles, because you can't just rush past them. In fact, trying to blaze past them is the worst possible tactic here, because eventually the screen will become clogged by angry birds, and they'll batter you into a pit. Instead, you need to move methodically, taking down each one as it appears.
Come to think of it, the owls behave like a combination of the bats from Block 1 and the ravens from Castlevania. Which is fitting, I guess, because owls are nocturnal (like bats) and avian (like crows).
Grant is more or less useless here, which is a strange state of affairs for a brand new character. His puny knife range is woefully inadequate against the owls, and while his subweapons are moderately helpful they're nowhere near as good as the subweapon that drops here for Trevor: A Boomerang. This isn't so much the case in the Japanese version of the game, where Grant's stubby dagger is a Dagger subweapon that travels the screen by default — it's really quite helpful here. In the U.S. game, however, the dude you just recruited is best relegated to the rear guard… which means that if you take the upper path a short while later, you may never have the chance to make proper use of Grant, period.
But first, you emerge from the woods by climbing a small hill to bypass a large chasm that blocks your forward progress. Once you rise above the tree line, you find yourself in a thick mist whose color partially obscures the Skeleton Dragons that lurk here, spitting fireballs at you. Once you climb back downward, you… find yourself at another map selection screen.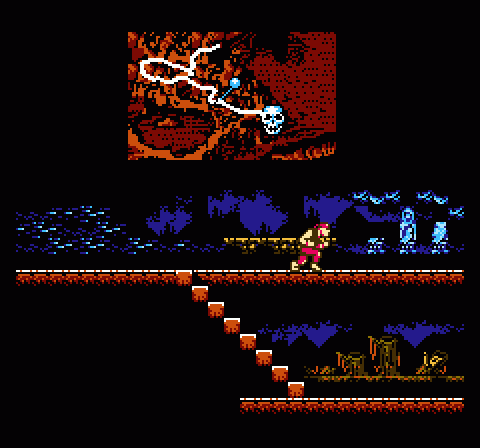 Select the lower route and Block 3 comes to a quick end. Take the upper path, however, and you realize you're only halfway through the block: Two more entire stages wait ahead to challenge you.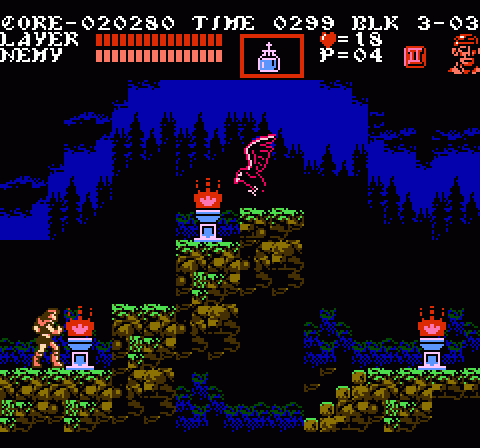 Here you find yourself briefly in the clear, above the fog, with the woods you've just traversed in the background. If you check your progress against the map, you're on an approach to a vast lake, and the background details as you advance through Block 3 depict this journey quite effectively. Now that you're no longer in the woods, the birds that beset you are ravens rather than owls. This makes sense. It's a nice touch of logical design.
For those keeping track, this is the fourth tableau to appear in this one stage.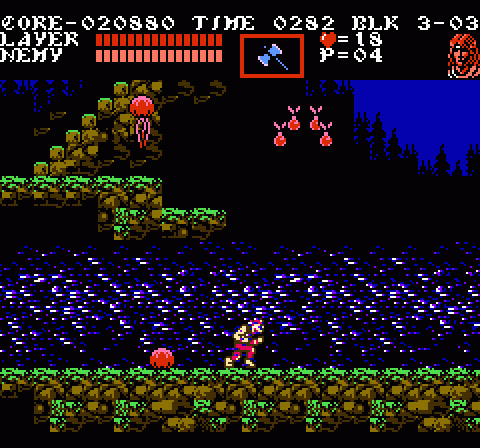 Descend back down into the fog and you face these jellyfish things that respawn frequently and drift slowly across the screen. Strike them and they're likely to burst into smaller spores that fan out and arc toward Trevor or Grant as they fall. This makes them dangerous to attack… but you kind of have to attack them, because they show up in such numbers and take so long to amble across the screen that they're difficult to avoid peacefully. Their seeming omnipresence can make navigating the pits in the second half of this sequence very dangerous. As a result, the entire area becomes an interesting challenge in which danger is largely indirect by default but can be made considerably more threatening if you go on the offensive.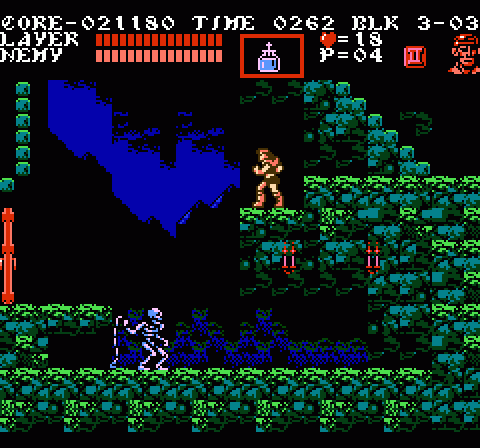 Before you move along to Block 3-04, you meet this guy. (Technically, he also appears in Block 3-00, but this is the first one you're guaranteed to face.) This guy, besides being a new kind of skeleton that can go toe-to-toe with Trevor thanks to its whip, is based on a terrible pun. Its name is Shimon, which is written as "死門" — the kanji for "Gates of Death," which is actually how Konami localized its name, originally. But of course, "Shimon" is also how you spell Simon in Japanese (シモン). This is a pretty cool little joke that obviously doesn't work in any other language. These days, Konami localizes Shimon's name as "Simon Wraith," which loses the joke but at least captures the important reference.
Of course, it's totally anachronistic in a game set hundreds of year before Simon's quests, but whatevs.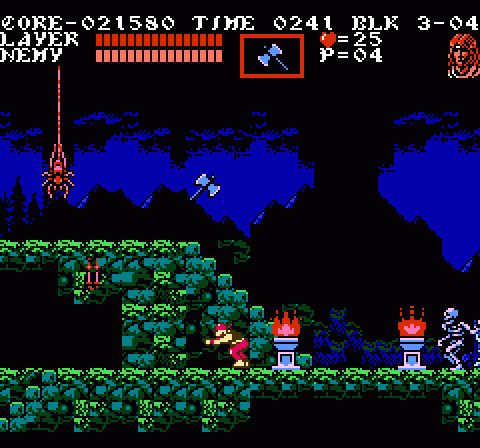 As you draw near the of this level, you meet some returning foes from Simon's Quest: Spiders, which drop down on a thread and fire their babies at you. The tiny spiders are smaller and therefore somewhat easier to avoid than the large webs they flung in Simon's Quest, even if the idea of a spider spitting its young at you makes less sense than trying to hit you with a web.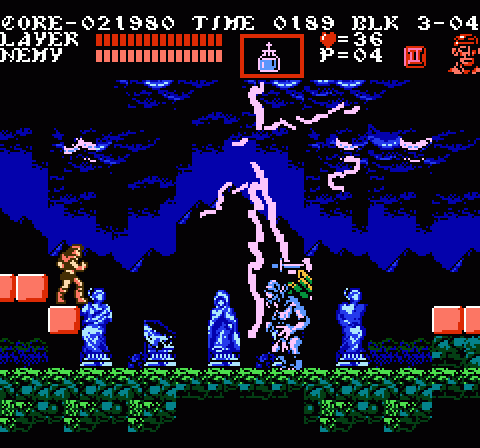 The spiders pose the final thread you'll face before reaching the boss, a hulking Cyclops that stomps around and tries to hit you with a massive hammer if you take the time to face it down and attack it. The Cyclops is only vulnerable in the face, so fighting it with Grant is pretty much a suicide attempt.
This battle setup is pretty interesting, because it can be very, very easy if you want it to be. If you stand on the two high bricks to the left, you'll rise completely above its reach. It'll wander directly beneath you for a moment before getting frustrated and moving back to the right, at which point you can drop down, hit it, and jump back up again before it can launch a counter-attack.
The thing is, getting this far into such a huge (potentially five segments!) stage means you're probably going to be running on fumes, health-wise, once you get here. To ward off the death that could very likely be lurking behind you, you can hit the lower left block to snag a chunk of meat for a health refill… at the cost of destroying your ability to jump easily up to the higher blocks. You're forced to make a choice here if you've reach this boss tired and weary: Leave the block and trivialize the fight but leave yourself weak and vulnerable if you screw up? Or take the meat and the health refill but limit your ability to dodge the boss? It's an interesting little problem.
Beat the boss and one of the statues crumbles to reveal a new companion character: Sypha Belnades. More on, er, him later. Choosing to take Sypha along means you have to abandon Grant, which kind of sucks for Grant… because Sypha is amazing, and you'd have to be nuts to stick with Grant.