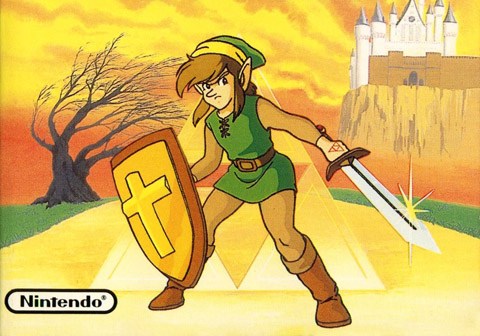 I won't lie: Zelda II surprised me. Based on my vague memories of being stumped by its obscure clues and opaque design for weeks on end as a young teen, and given the fact that its successors have only connected with its design concepts on oblique tangents, along with its general deprecation among gamers… well, I expected my journey through the Adventure of Link to be an arduous chore.
In truth, I only took on this particular Anatomy of a Game project out of a sense of completeness. It wouldn't do to write up the 2D Zeldas and skip over the second entry would it? And yet, while Zelda II has proven to be admittedly imperfect and in dire need of some modern-day refinement, as expected, on the whole it's a devastatingly inventive and influential game. Despite the action-oriented combat, it's a true role-playing game (albeit one with very limited character progression options) — the furthest any internally developed Nintendo game has ever ventured into that genre, if I'm not mistaken.
The concept of blending action and role-playing elements certainly didn't originate here, and Zelda II bears more than a passing similarity to some of Falcom's Dragon Slayer titles. However, as noted previously, Zelda II takes its role-playing mechanics a step beyond simply giving you magic spells to cast and enemies that barf up experience points upon defeat. Its entire world pivots around the concept of opening new paths and challenges upon the completion of small quests, giving players the freedom to roam a compact but densely constructed realm in search of their next objective. We take this for granted now, but remember that many of Zelda II's console contemporaries were still struggling to deal with the concept of arcade action that scrolled beyond a single screen.
As often happens with such radically progressive and ambitious games, Zelda II has some rough edges that need sanding. Players are expected to pixel-hunt in towns and tile-hunt on the overworld map; clues to progress can often be too opaque, or lacking altogether; enemy combat encounters rely too much on endlessly spawning nuisances and being forced to manage more (and more varied) foes than Link can properly deal with. The tools and spells you collect often offer extremely limited use and simply feel like an arbitrary checkpoint to real progress.
Still, it works. Not unlike Konami's missteps with Castlevania II: Simon's Quest, Nintendo may have bitten off a bit more than it could chew with this game's design — though certainly not to the degree that Konami did — and many of its ideas wouldn't be fully realized for another decade. The concept of magic appeared straightaway in the sequel, A Link to the Past, but it was heavily reworked to complement Link's subweapons rather than replace them. Meanwhile, the emphasis on swordplay and one-on-one combat properly came into its own only after Zelda moved to the third dimension with Ocarina of Time and arguably achieved its peak with The Wind Waker's battle mechanics: As in Zelda II, The Wind Waker emphasized defense and evasion more than head-on stabbing.
In fact, while Ocarina of Time owes its quest structure to A Link to the Past, its moment-to-moment play and emphasis on townsfolk feel like Zelda II given a third dimension. Rather than pull the overhead camera of other 2D Zeldas down to ground level for Ocarina, Nintendo simply rotated Zelda II's camera 90 degrees around Link, pushing it from a side view to an over-the-shoulder view. It's no coincidence that the Kokiri characters of Ocarina shared the name of town in this Adventure. Ocarina was a tribute to and a repudiation for The Adventure of Link, the point at which Shigeru Miyamoto and his collaborators finally had the tech and design experience to realize their mad 8-bit ambitions.
Zelda II is hard, no question — often unfairly so. There's no shame in cheating the game with save states or GameShark codes to help smooth over the hair-pullingly difficult parts. Nor would anyone blame you for asking around for help — that's what we all did, back in the day. Compensate for the failings of age and naïve design and what you have in Zelda II is a fine attempt to recast the nascent console role-playing genre into an action-oriented format more compatible with the expectations of the platform's user base. This is essentially the direction the entire games industry has moved over the past five or six years through series like Mass Effect (an RPG becoming a shooter) and Call of Duty (a shooter becoming an RPG). Not only was Zelda II ahead of its time, in many ways it's a much better RPG and action game than a lot of more recent takes on the concept.
It may be the black sheep of the Zelda family, but that just means it provides the most interesting wool.