Leaf Shield
Not every Robot Master weapon in Mega Man 2 takes the form of a gun, but even the unconventional armaments are more useful than their equivalent from the first game. The Leaf Shield comes with significant downsides — like the fact that it causes Mega Man to become completely immobilized while it's equipped — but despite its disadvantages, you'll find several areas in which it can be a real life-saver.
The Leaf Shield, per its name, creates a rotating shield of curiously indestructible leaves that surrounds Mega Man. You can't run while the Leaf Shield is active, but there's a good reason for this: When you press the controller in any of the cardinal directions, the shield goes rolling in that direction, destroying everything in its path. Until you move, though, the Leaf Shield completely protects Mega Man from almost all hazards; the leaves have a piercing effect, meaning that they aren't "absorbed" and don't disappear when they null a projectile or strike an enemy.
The only things that can break the shield are the few enemies or objects in the game which are completely immune to Leaf Shield. Those hazards break the shield with a metallic "tink" and cause it to drift slowly down, off the screen. Likewise, when you throw the shield, it will be completely deactivated if it comes into contact with something it can't affect.
Fortunately, there are very few things that can withstand the Leaf Shield, and its wide area of effect and piercing effect combine to make it one of the most devastating weapons in the game. Throw it at a group of enemies and watch it render them all into power-ups — so many power-ups in certain areas that they blink themselves out of existence to prevent overloading the NES, in fact. The Leaf Shield also comes in very handy when Mega Man finds himself surrounded by foes in tight situations where he can't evade or aim effectively, such as riding moving platforms or climbing ladders. And the energy drain on Leaf Shield is per activation, not time-based. It's a potent and practical weapon, if you know how to use it.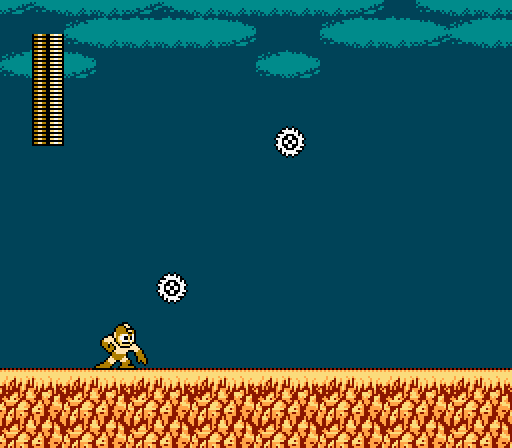 Metal Blade
Of course, Leaf Shield has nothing on the weapon you earn from the game's easiest boss, Metal Man. The Metal Blade is so powerful, so effective, so easy to get ahold of that its presence in the game almost constitutes a design flaw. It's greatly empowering, but to such a degree that it discourages players from experimenting with the other parts of the game's excellent arsenal. Considering how useful and balanced the weapons in Mega Man 2 prove to be, that's unfortunate.
Simply put, Metal Blade is the single best weapon in the entire Mega Man series. It's cheap, powerful, and effective. You can throw several blades for a single point of energy. It's as effective as, and usually more so than, Mega Man's default weapon. Only a tiny handful of enemies have resistance to it. And most importantly, you can throw it in eight directions.
Yes, the Metal Blade addresses one of the key failings of the original Mega Man's weapons in that you couldn't really aim them. Only the Thunder Wave attacked on the vertical, and that was limited and imprecise. The Metal Blade doesn't fire in three directions at once, but it does fire left, right, up, or down, as well as at angles in between.
In short, there is very little in Mega Man 2's world that is safe from Mega Man when he's equipped with the Metal Blade. It can reach anything on the screen with a rapid flurry of deadly discs. It even has a piercing effect like several of the other weapons that allows it to blast through a cluster of enemies in a single shot. There's is literally no reason not to use this weapon for 90% of the game, aside from the intangible loss of experiencing the team's hard work in creating a collection of weapons that are worth a crap.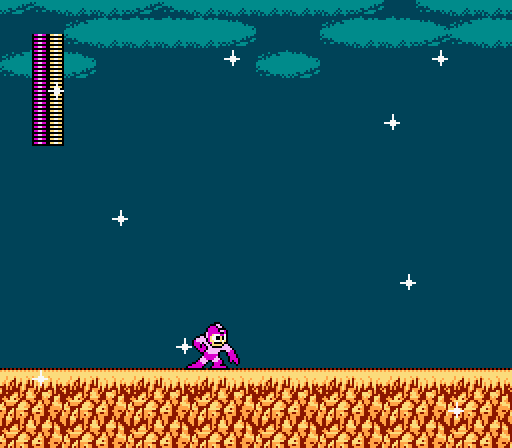 Time Stopper
At the other end of the spectrum, you have the Time Stopper. Capable of stopping most enemies and hazards in their tracks, the Time Stopper has a single critical shortcoming that reduces its value: Once you activate it, the only way to switch it off is to let it run out of time.
That one design flaw greatly diminishes the value of the weapon. You basically have one shot per stage to use it, so you need to make it count. Worse, if you use it in a situation where you're up against enemies that aren't affected by the Time Stopper, you're totally vulnerable. You can't switch out to another weapon as Time Stopper runs down, so you have to run around as a totally unfrozen enemy has its way with you… and usually, the enemies unaffected by the freeze are the big, dangerous ones, like the Sniper Armors. Have fun getting stopped by those jerks while you're powerless to retaliate.
Since you can't switch weapons while the Time Stopper is frozen, that means it also has minimal strategic advantage — you can't switch to another weapon while you've immobilized your foes and destroy them in safety. So, what's the point? Well, Time Stopper has value against one boss and in freezing certain environmental hazards… but that's about it. Ironically, while Mega Man 4 is a worse game than Mega Man 2 in practically every way imaginable, its time-freezing weapon (confusingly called the Flash Stopper, thought it has nothing to do with Flash Man) rectifies all the Time Stopper's flaws and actually proves to be a pretty useful power-up.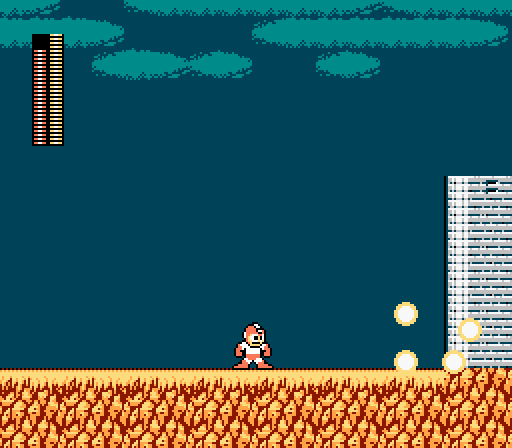 Crash Bomber
And finally, last but not least (though also not best), the Crash Bomber. Crash Man (or Clash Man, or Crush Man — katakana, y'all!) wields a powerful weapon, and it's equally potent in Mega Man's hands. While you can't aim it freely like Crash Man can, it works just as well for you as for him. The Crash Bomber fires a large timed charge that pierces practically every enemy in the game and continues flying until it hits a wall, at which point it clamps on and begins a brief (we're talking like three seconds) countdown, then detonates. The resulting explosion has a sizable splash effect and causes heavy damage to anything caught in the blast.
In the rare case that the Crash Bomber doesn't pierce an enemy, it still hits hard: The grenade detonates on contact, with the same explosive splash.
The shortcomings of this weapon come from its limited utility. The bombs are costly, with a full energy charge equalling a mere four shots. And while a fired charge is active (either clamped or exploding), you can't fire another one, which leaves you somewhat vulnerable. Still, it's pretty handy for its ability to blast open certain walls and pierce seemingly invulnerable barriers, like Wood Man's shield. On the other hand, it's a key element of the crappiest boss battle in the game, so that's a strike against it.